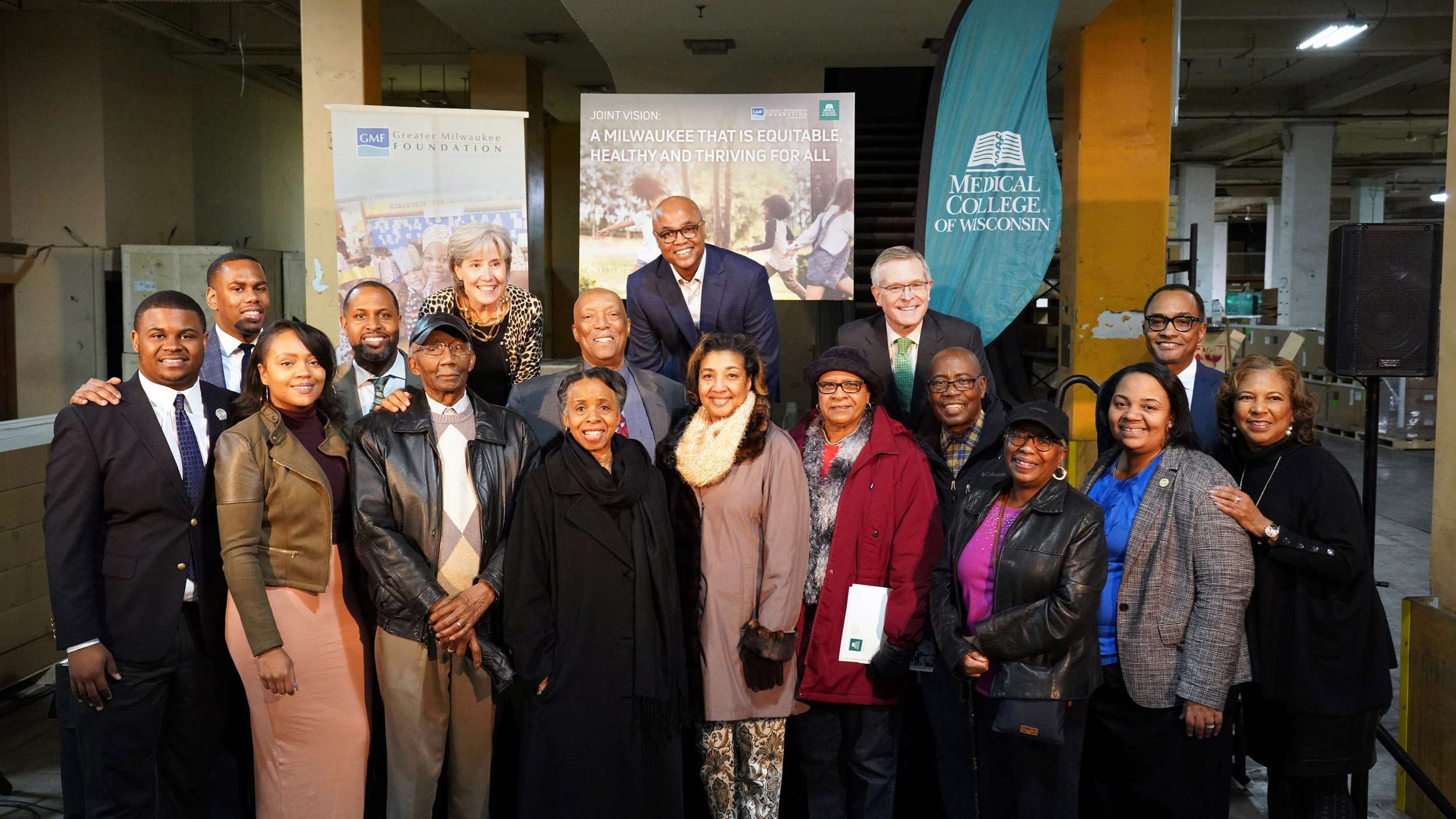 Royal Capital Group Announces Purchase of Former Gimbels and Schuster's Building on King Drive
Milwaukee, Dec. 15, 2020 – Royal Capital Group (RCG) today announced the purchase of the former Gimbels and Schuster's Department Store building. The building, located at 2153 N. Dr. Martin Luther King Jr. Dr. in Milwaukee's Halyard Park neighborhood, has approximately 455,000 square feet and is slated to include office space, programming for early childhood education and health and wellness, affordable apartments, and a new construction of a 300+ stall parking structure.
Community-centered Collaboration Led by MCW, GMF and Royal Capital Group Announces Name, Key Focus Areas
Milwaukee, Wis., Sept. 10, 2020 – The community-centered collaboration led by the Medical College of Wisconsin (MCW), the Greater Milwaukee Foundation (GMF), and Royal Capital Group has chosen the name of the ThriveOn Collaboration as the organizations continue deep resident and stakeholder engagement together to inform priorities and investments for supporting a thriving King Drive corridor and its connected neighborhoods.
Plan to put $15 million in city financing toward redevelopment of former King Drive Schuster's advances
November 19, 2019- A historic department store, north of downtown Milwaukee, would be converted into apartments, offices and other new uses - with the city helping finance those renovations - under a plan being recommended for approval. Development firm Royal Capital Group LLC plans to convert much of the building into 131,000 square feet of offices and research space, with Medical College of Wisconsin and Greater Milwaukee Foundation serving as anchor tenants. Milwaukee Journal Sentinel
Medical College of Wisconsin Studying Disparities
May 11, 2019- The Medical College of Wisconsin is studying racial disparities in cancer deaths, breast cancer, colorectal cancer, and smoking with funding from the Greater Milwaukee Foundation. Channel 3000
Greater Milwaukee Foundation and Medical College of Wisconsin Announce Joint Vision for the Milwaukee Community
March 29, 2019- The Greater Milwaukee Foundation and the Medical College of Wisconsin have created a partnership to create a safe place for the Milwaukee community. Through their partnership they've announced their vision: "a Milwaukee that is equitable, healthy and thriving for all." Milwaukee Courier
Medical College, Greater Milwaukee Foundation pick King Drive site for city initiative
March 26, 2019- The Medical College of Wisconsin and the Greater Milwaukee Foundation have selected a former Gimbels-Schuster's Department Store property on North Dr. Martin Luther King Jr. Drive as their new location for their city initiative. Milwaukee Business Journal