Construction Nears on GMF-MCW-Royal Capital Site, Introduced as ThriveOn King
ThriveOn Collaboration also announces first wave of community grants
Milwaukee, Wis., Jan. 26, 2021 – With construction imminent, the community-centered ThriveOn Collaboration has announced ThriveOn King as the name of its physical home at 2153 N. Martin Luther King Jr. Dr. The collaboration's lead organizations – Royal Capital Group, the Medical College of Wisconsin and the Greater Milwaukee Foundation – anticipate work will begin in spring 2021, now that the purchase of the former Gimbels and Schuster's Department Store building is complete.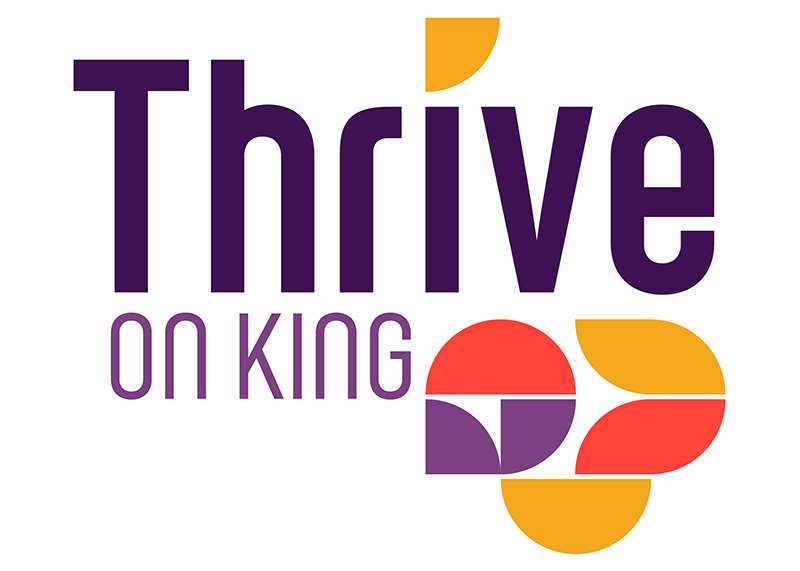 Created through strong neighborhood input, the ThriveOn King name honors the spirit of its special location between King Drive and Vel R. Phillips Avenue and pays reverence to the history and legacy of those who have brought pride and vibrancy to the community for generations.
As the construction planning and organization phase commences, the collaboration will be announcing virtual job fairs, safe open house tours and other intentional efforts to ensure a high level of economic empowerment for the adjacent neighborhoods as a result of jobs and local small business participation.
"With the neighborhood engagement and partnership leadership from both the public and private sectors, I'm pleased that we are advancing a neighborhood development that is inclusive, and that will serve our collective aim toward continuing to advance thriving communities," said Kevin Newell, president and CEO of Royal Capital Group.
Coalesced around a vision for Milwaukee that is equitable, healthy and thriving for all, the ThriveOn Collaboration's programs and investments focus on matters related to economic opportunity, health and wellness, early childhood education, housing, and social cohesion. The place-based collaboration is designed to bring economic and social benefit to the community, leveraging the complementary expertise and resources of the Foundation, MCW and Royal Capital.
"Every step forward in this collaboration brings us closer to the community we serve, and we can't wait for the day we open the doors to the Foundation's new headquarters at ThriveOn King as true neighbors and partners," said Ken Robertson, executive vice president, COO and CFO for the Foundation. "The Foundation's strategic vision calls us to recenter communities, and our work here together is the perfect example of living that vision. This is a model collaboration that counteracts racism and disinvestment by representing community voices and advancing our collective, long-term commitment to systemic change."
"Through the ThriveOn Collaboration, the expansion of community assets will be a primary goal, said Greg Wesley, senior vice president of strategic alliances and business development for MCW. "ThriveOn King will house many of these within the first floor space of the building. It is thrilling to see the ongoing conversation and input of the community be developed and constructed in the building."
Community-led grantmaking
Authentic community engagement is a hallmark of the ThriveOn Collaboration, and this includes investing in the ideas and priorities of residents and other neighborhood leaders. The collaboration is integrating community perspective and participation through a dedicated Community Advisory Council whose 15 members live or work in Halyard Park, Harambee and Brewers Hill. Council members have a prominent voice in grantmaking and program initiatives supported by the ThriveOn Collaboration.
Through the Council's recommendation, the ThriveOn Collaboration recently awarded $30,000 in grants to support youth, employment training and community-based activities that encourage youth social connections, promote peace and build community cohesion in the participating neighborhoods:
Jacarrie Kicks for Kids received $7,500 to support life skills training for youth in the Harambee neighborhood. The program will help young people ages 10 to 18 learn, enhance and support their transition from adolescence to adulthood through training in proper job interview techniques, computer literacy, resume building, college application assistance, email etiquette and artistic expression.
Imagine MKE received $7,500 to engage youth in Harambee and Brewers Hill to create positive, inspirational graphic messages around safety, including posters or podcasts related to the COVID-19 pandemic.
Collier's Training Institute received $7,500 to work with youth to implement various neighborhood cleanups in the Harambee community. They will support mentorship opportunities that encourage and educate youth on self-love, unity, and team-building.
WestCare Wisconsin, Inc. received $7,500 for services to help youth in the Harambee neighborhood participate in recreational activities that support their emotional and physical well-being during the COVID-19 pandemic. Required safety measures and COVID-19 guidelines will be followed to ensure the community's health and safety.
Applications for a second grant cycle will be due May 31, 2021.
More updates on the ThriveOn Collaboration can be found on their website.