THRIVE ON COLLABORATION PRIORITIES
A Model for Change
The ThriveOn Collaboration represents a new, place-based approach to addressing interrelated health, economic, social and racial inequities.
Imagine a community hub where neighbors can meet for coffee, where their children and grandchildren receive top-tier early education, where family and friends live, and where resources to learn, explore or grow a business await. Imagine walking down historic streets bustling with new life, as locally owned businesses open their doors and locally driven art dots the sidewalks. Imagine a place where people can come together to build solutions whenever they face personal or neighborhood issues. Imagine all of this—and so much more.

To make this vision a reality, the ThriveOn Collaboration brings together not only a range of organizations and stakeholders and a number of strategic focuses, but also a range of interrelated investment opportunities that together lead to greater, more durable impact.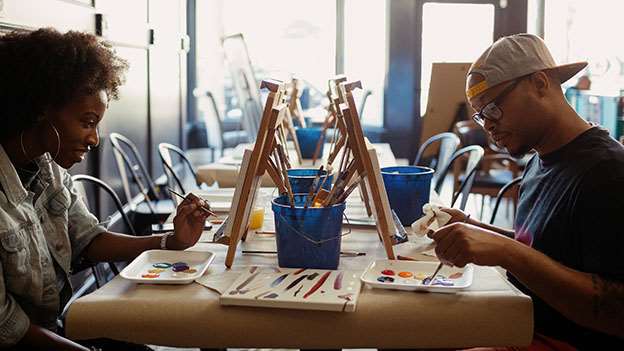 To help reduce disparities and achieve health and social equity, we are investing in the following strategies: 
Investments in PLACE
supporting the redeveloped Gimbels-Schuster's Department Store, now known as ThriveOn King, and all that will be in it, including Foundation and MCW programs as well as affordable housing and first-floor space for community priorities.
Investments in PROGRAM
advancing programs and initiatives that put residents at the center of approaches and decision-making, including education, small business and housing.
Investments in NEIGHBORHOOD
infrastructure, businesses and supports surrounding our building and aligning with our strategies and the community's priorities.
Investments in THRIVEON COLLABORATION
building long-term flexible funds to scale critical initiatives centered on place, program and neighborhood—and achieve a true multiplier effect.
OPPORTUNITIES FOR TRANSFORMATIVE INVESTMENT
For individuals interested in supporting the ThriveOn Collaboration, we offer several unique immediate funding opportunities:
ThriveOn Collaboration Fund:
Your gift will provide critical, long-term, and flexible funding to fuel and scale interrelated strategies centered on place, program and neighborhood, bringing this transformative, community-centered project roaring to life.
ThriveOn Community Engagement Fund:
Your gift will support the Collaboration's approach to putting residents at the center of our work.
ThriveOn Early Childhood Education Fund:
Your gift will help build out a leading-edge early childhood center in the ThriveOn King building and support existing early childhood education providers in the area.


ThriveOn Arts Fund:
Your gift will support art in the ThriveOn King public spaces, reflecting the rich history, inclusive community, and thriving future of the surrounding Bronzeville area.
ThriveOn Collaboration
2153 N. Dr. Martin Luther King Jr. Dr.
Milwaukee, WI 53212
Fiesha Lynn Bell
Director of Development and Major Gifts
(414) 290-7331
fbell@greatermilwaukeefoundation.org