The dream we all share for our children, our families and our community is to thrive. Not just to survive and get by, not just to improve – but to grow and flourish and succeed.
The historic, community-focused ThriveOn Collaboration was founded by the Greater Milwaukee Foundation (GMF), the Medical College of Wisconsin (MCW) and Royal Capital with a joint vision for a Milwaukee that is equitable, healthy and thriving for all.
ThriveOn is the first collaboration of its kind in the nation – a partnership with a private medical college, a community foundation, and a leading innovator in urban development – all sharing a vision and mission.
CONNECTION TO THE COMMUNITY
Listening. Collaborating. Serving.
Great things happen when people join together and take action.
From the very start of our Collaboration, we have made it a priority to put resident and stakeholder voices at the center – honoring the community's history, culture and people. By listening and collaborating every step of the way, we we have included the individuals and organizations in the neighborhood to help address needs, guide our strategies, and even shape our identity. Together, we will accomplish our shared mission to help support and sustain a united, equitable, thriving community.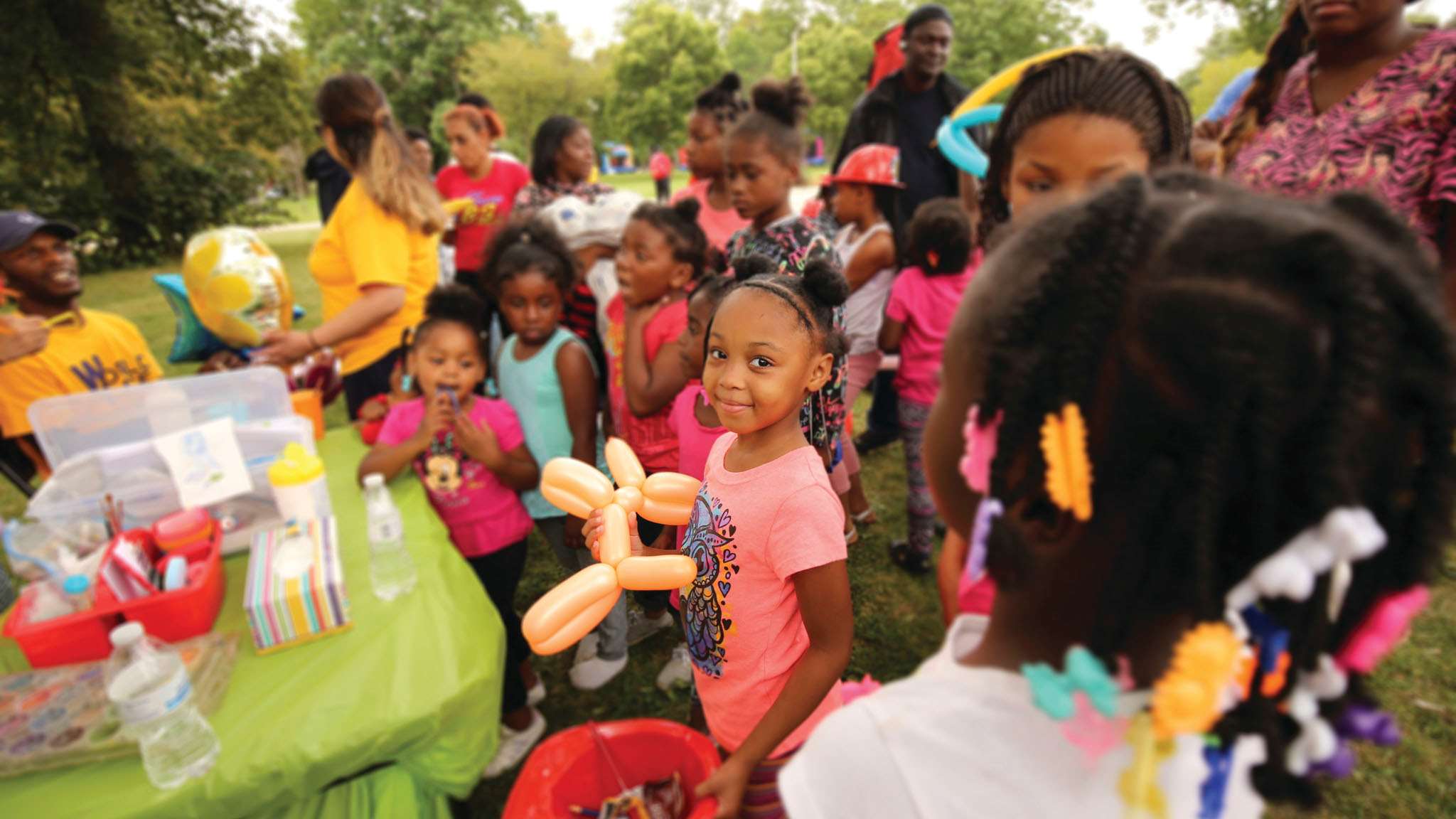 THRIVE ON KING
Building on a Vision
ThriveOn King will soon be a vibrant hub designed to help sustain health and growth in our community.
The mission of the ThriveOn Collaboration is physically embodied in the restoration and redevelopment of the historic Gimbels-Schuster's building on King Drive, at the nexus of three vital neighborhoods: Halyard Park, Harambee and Brewers Hill.

It will become the new home for the Greater Milwaukee Foundation; house the Medical College of Wisconsin's community engagement programs, and will also include community early childhood education services; and provide affordable housing, community spaces, and more.
Construction Updates
The ThriveOn King building is starting to come out of its shell. Cladding removal is nearly complete, the original brick façade is now showing fully on the east face. All cladding will be removed in the next couple of weeks and masonry restoration will begin soon. Of course, changes are taking place inside too, as initial demo projects begin.
We'll share more updates with you as they happen!
NEIGHBORHOOD FOCUS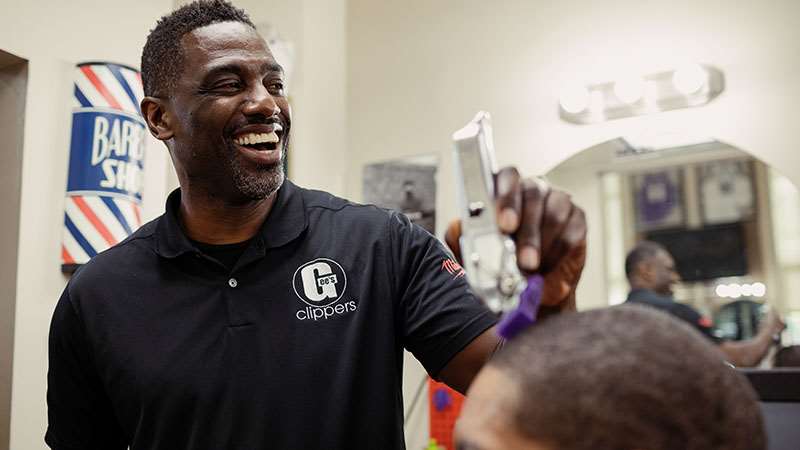 Keeping Our Communities Affordable & Inclusive
The ThriveOn Collaboration is committed to keeping our communities affordable and inclusive, and respectful of the people who make up the backbone of our neighborhoods. That's why we are a supporter of the MKE United Anti-Displacement Fund, which provides financial assistance to help ensure that long-time, income-eligible homeowners are not displaced due to rising property values and new developments.
Historic Halyard Park
Named for banker and activist Ardie Clark Halyard and her husband Wilbur, who sponsored the area's redevelopment in the 1970s, Halyard Park is a unique, vital residential neighborhood within Bronzeville and a bastion of Black homeownership. Learn about its inspiring history and current strengths and challenges.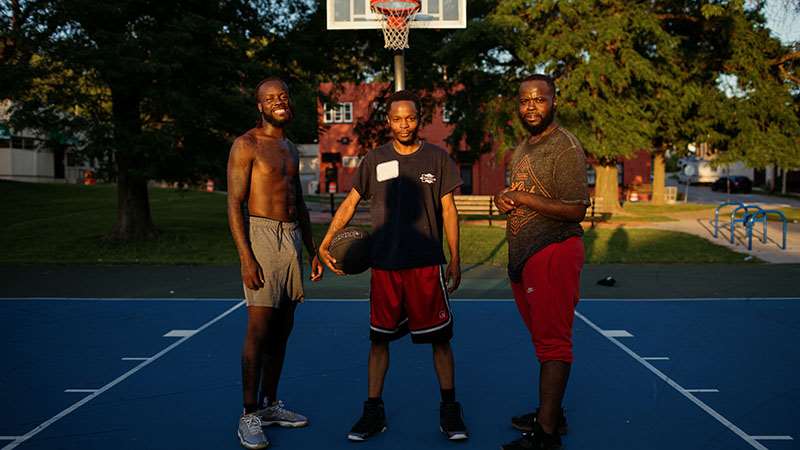 PARTNER SPOTLIGHT
The Better the Team, the Greater the Change
At the ThriveOn Collaboration, we are proud to have assembled a team of amazing individuals who contribute the best of themselves in order to achieve a shared goal. We are also privileged to partner with community members dedicated to our common vision – to help all of Milwaukee achieve equity, health and prosperity. Every month, we feature a different partner of whom we are especially proud – from inside our team – or from our extended family in the community.
GREG WESLEY
Gregory M. Wesley, one of the three co-chairs at the ThriveOn Collaboration, is the senior vice president of strategic alliances and business development at the Medical College of Wisconsin (MCW). He is a former partner at Gonzalez, Saggio and Harlan LLP in Milwaukee, and served on the MCW Board of Trustees from 2009-2016. His impressive range of legal experience includes advising clients from a broad range of industries including healthcare, real estate development, financial services, retail and manufacturing. Wesley is also a past president of the Wisconsin Association of African-American Lawyers, a former chair of the Milwaukee Urban League Board of Directors, and a past trustee of the Faye McBeath Foundation.
GRANT PROGRAM
ThriveOn Collaboration Grant Program
The ThriveOn Collaboration is offering funding to encourage youth social connections, promote peace, and build community cohesion in the Harambee, Halyard Park & Brewers Hill neighborhoods. Grants from the fund will range from $250 to $7,500.
WHO IS ELIGIBLE?
Nonprofits interested in partnering with residents, community leaders and stakeholders in activities that promote community cohesion, foster constructive relationship with community residents and stakeholders.
The Collaboration will consider proposals from groups, agencies and organizations with a charitable status as determined by the IRS internal revenue code 501(c) 3. Please note: Entities that do not have this designation may use a fiscal sponsor (organization recognized as a 501 (c) 3 charitable entity) to serve as the recipient and manager of the grant.
Eligible nonprofits are required to have board membership that is at least 10 percent people of color. The term "people of color" refers to all persons who are not categorized as white by the U.S. Census.

Criteria for funding will include the expected activities and events and the prospect for achieving the fund's goals, the track record of the applicant, the degree of the collaboration with others and willingness to share information and plans, and the quality of the proposal as described below.
Download grant eligibility and application details (DOCX)
View current cycle for the ThriveOn Collaboration grant program (PDF)
Sign up today to join us for a grant application information session.